Diese CDs können Sie unter Angabe Ihrer Adresse gegen Rechnung bestellen. Klicken Sie ins Cover-Bild für nähere Informationen.

Daniel Blanc Quartet: Bouncin'

Daniel Blanc Quartet: Blue Blanc
B. Dietrich - J. Haider Orchestra: Consequences

Eliane Cueni Septett: hey hag
Lars Lindvall Tentet: 1-10

Andreas Edvino Luescher: Andy Lüscher

Thomas Moeckels Centrifuge: Big T's sunglasses, vergriffen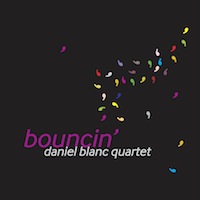 Daniel Blanc as, fl Walter Jauslin p Giorgos Antoniou b Michael Wipf dr
Rec. 7 & 8 July 2012, Powerplay Studios CH-8124 Maur
| | | | |
| --- | --- | --- | --- |
| 1 Bouncin' (D. Blanc) | | 6 My One And Only Love (Wood/Mellin) | |
| 2 Nscho Tschi (D. Blanc) | | 7 Tsalagi (D. Blanc) | |
| 3 Happy (D. Blanc) | | 8 Vicious Circle (D. Blanc) | |
| 4 Flute Blues (B. Jaspar) | | 9 Bird Calls (D. Blanc) | |
| 5 Toxic (D. Blanc) | | 10 FBT (D. Blanc) | |
sFr 27.- inkl. Versand bestellen.
Claus Raibles liner notes
The aesthetics of jazz may differ drastically from music in other cultures like the European or Asian. Distinct articulation, however, is essential. A fortiori as improvisation is a fundamental element in jazz (although improvisation is not exclusive to jazz and can probably also be found in all cultures, including occidental classical music). Hence, a player cannot just rely on written or well-rehearsed parts.
In that respect, clear articulation requires a supreme sense of rhythm, melodic imagination and knowledge of harmony, as well as a style and sound that includes a great deal of technical skill, imagination and the ability to improvise instantly on the instrument. To attain this level, one must practice and study for years, even decades. Taking short cuts and sacrificing musical depth with superficial technique for profane flashiness is a pitfall all too many cats get trapped in.
Unfortunately, many audiences and even so-called «experts» fall for this mundane musicianship. Sometimes reputations and entire careers are, therefore, built on a platform of flashy sham. Yet, time has a way of separating depth and craft from shallow artifice: substance, soul and sacrifice endure, while flash fades fast. On alto-saxophone and flute, Daniel Blanc delivers sincerity and attitude with a great sense of swing, flawless improvisation and a distinct warm tone on his original compositions as well as on interpretations of the Great American Song Book.
Swiss-born in 1959, Daniel learned his craft at the Swiss Jazz School in Bern. Upon graduating with Chistian Baader and Andy Scherrer, Daniel became an international jazz troubadour. As a sideman, he has performed with, among others, Clark Terry, Bobby Durham, Lew Soloff, Alvin Queen, Bob Mintzer, Brad Leali, Reggie Johnson and Joe Haider.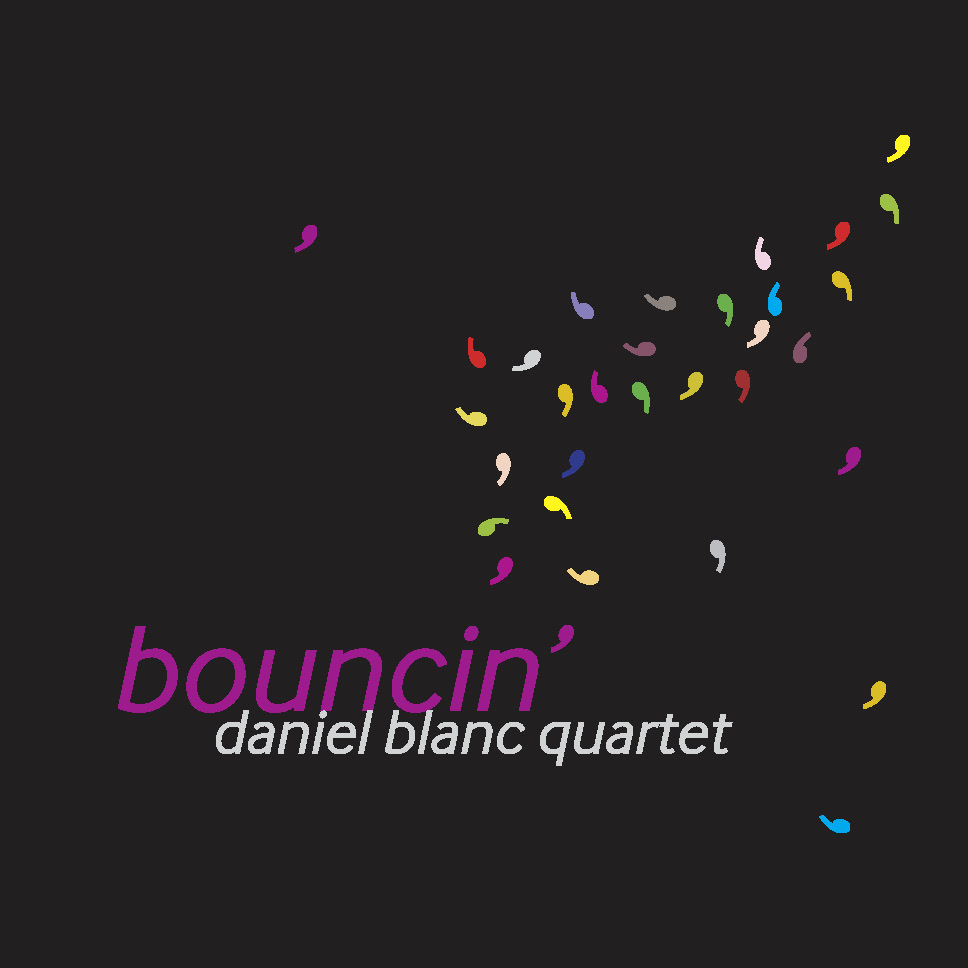 On this production, Daniel's choice of format is a quartet. His leadership and musical approach reflects Daniel's humble nature. Although he presents the melodies - as frontmen naturally will - and solos on every song, he offers plenty of space for the trio to solo and comp, the result being a fluid band rather than a soloist backed by a band.
About his comrades, Daniel states: «Walter is a virtuoso, always swinging and never forcing. He plays music with his focus on the band and not just on his piano.»
«Michael swings hard and he is as well at home in Cuban and Latin music. He also grooves incredibly when he plays softly.»
«Giorgos provides the foundation and the groove–simply, firmly and powerfully with inimitable invention. He swings. Always.»
This selection contains ten tunes, eight of which are composed by Daniel. The title song serves as the opener. «BOUNCIN'» conveys a cheerful vibe, as most of Daniel's songs do. The head is based on a samba-type of rhythm which switches to swing for the piano solo.
«NSCHO TSCHI» is also in the Latin mode and features a flowing melody in a long meter fashion. Walter Jauslin provides some impres-sionistic coloraturas behind the theme.
«HAPPY» is indeed a happy-go-lucky piece that exudes a bright beat.
«FLUTE BLUES» is one of the two tracks not written by Daniel. The composer is fellow Belgian reed-man Bobby Jaspar. The theme is treated in unison with bassist Giorgos Antoniou, who also takes a ride on this one later on. There is no percussion on this track; piano enters for Daniel's solo. Daniel proves his mastery on the instrument with a swinging, funky and melodically inventive improvisation.
«TOXIC» is a more angular composition. The melody, presented in a relaxed two-beat fashion, is harmonically based on the 1924 vaudeville song «How Come You Do Me Like You Do»? The song also served as a foundation for Sonny Rollins' Doxy, to which Daniel, judging by the title, is referring to.
Daniel shows his lyrical qualities on the 1952 ballad «MY ONE AND AND ONLY LOVE», written by Guy Wood and Robert Mellin. Pianist Jauslin sets the tune up with an atmospheric introduction and also provides a grooving block chord solo.
«TSALAGI» is an Iroquoian word. The song is based on the harmonical structure of Cherokee by English composer-bandleader Ray Noble. It kicks off in a choral-like manner and features a folk-gospel vibe. During the second half of the piano solo, it veers into bop.
On «VICIOUS CIRCLE» drummer Michael Wipf employs that haunting second line groove made famous by the great New Orleans percussionist Vernell Fournier. In a 7/4 meter, this has a somewhat melancholic mood, uncharacteristic of most of Daniel's music.
«BIRD CALLS» has a sanguine vibe, featuring Daniel's flute one more time. One might expect a more ornithological piece, yet the atmosphere is closer to Copacabana than to Birdland.
The selection closes with «FBT», a pretty funky but relaxed piece. Bassist Giorgos Antoniou opens with a groovy ostinato figure. Not messing around, he sticks to it all the way through in a fashion that would Horace Silver make happy.
IDaniel says, «It's fun just playing with those cats – spending time together, talking about music, eating together…» Essential bonds for the internal harmony of a band…
IStylistically, one might refer to Daniel's music as straight ahead, post bop, or modern mainstream. Whatever it is, I suggest you just listen and enjoy the «Daniel Blanc Quartet».
Claus Raible, August 2012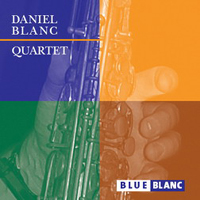 Daniel Blanc as, fl Jean-Paul Brodbeck p Giorgos Antoniou b Michael Wipf dr
Rec. 11/12 Nov 2006, DRS Studio 2 Zürich
| | | | |
| --- | --- | --- | --- |
| 1 I did it (D. Blanc) | | 6 Regarding O. P. (G. Antoniou) | |
| 2 Für Iris (D. Blanc) | | 7 Seven (D. Blanc) | |
| 3 Pierrot (D. Blanc) | | 8 Fungi mama (B. Mitchell) | |
| 4 Blue Blanc (D. Blanc) | | 9 You'd be so nice to come home to (C. Porter) | |
| 5 Theme for Benjamin (D. Blanc) | | | |
sFr 27.- inkl. Versand bestellen.
Dado Moronis liner notes
The thing that makes art so special, among various life experiences, is the ever changing way we perceive it, depending on how we feel at that particular moment of our lives. We may look at the same painting, read the same poetry, listen to the same song a hundred times and we will always be surprised or touched by something we weren't able to catch before.That's why I'm always a bit reluctant to write about music...when music is perfectly able to speak for itself, and so well indeed!
However, when Daniel Blanc asked me to do it I accepted happily because, since the first time I heard him perform live, I was hit by his fascinating sound, ideas and sense of "jazz" in its true terms. And these things are not gonna change, they can only acquire more qualities, just like great wine!
In this CD Daniel proves to be a fine composer, firmly grounded in the best tradition although he'll always surprise you with subtle turns and sudden colours which suggest a deep insight into what's happening today in the music world. Of course there are echoes of many historical "personalities", from Duke to Bird, though cleverly filtered through his unique approach and he always sounds fresh, leading you gently into his world.
For this trip, Daniel has chosen the perfect partners, starting with Jean-Paul Brodbeck who's become a bright young voice on the European scene. Besides his inspired and inspiring comping, his solos demonstrate a deep knowledge of the "language" and a great wealth of melodic and harmonic ideas, always focused and meaningful. Classy.
Bassist Giorgos Antoniou from Athens, Greece, keeps his country's flag high and strong in the jazz world performing all the time with some of the most important musicians and here he shows what a bass should sound like: strong but smooth lines, thoughtful solos, beautiful sound and a good beat. Having a beat is a natural thing, just like having blue eyes or curly hair. You either have a beat or you don't! Giorgos has it.
Same thing for Michi Wipf, playing drums on this date. Always swinging elegantly and suggesting rhythmic ideas without forcing them on his partners, Michi sounds like he's playing chords because he's using the drums also as a harmonic instrument so he blends in perfectly with what's going on. He sounds like he's totally at ease with his instrument and that brings the music to a very high level.
The music on this CD possesses the very rare quality of being enjoyable on different levels, touching the casual listener with its simple beauty and strong bluesy roots and impresses the hardcore jazz fan/ musician with its subtle changes and creativity. From FÜR IRIS to SEVEN to BLUE BLANC (where Daniel shows his beautiful skills on the flute) to REGARDING O.P. (written by Giorgos) here's a display of human emotions coming from people who mean what they say, with sincerity and true love for life and music. Don't miss the chance to go hear this quartet live!
Dado Moroni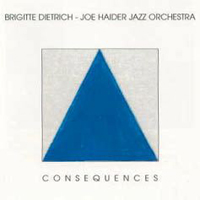 Brigitte Bietrich cond; Joe Haider p,cond, Dani Blanc, Thomi Geiger, Domenic Landolf, Ruedi Wettstein s,fl,cl,bcl; Ingolf Burkhardt, Dani Schenker, Mats Spillmann tp,flh; Rene Mosele, Bernhard Bamert, Adrian Weber tb; Giorgos Antoniou b, Daniel Aebi dr
Recorded 1-3. Mai 2000, DRS Studio 2 Zürich
1 Waltz for my lady (J. Haider) 2 Consequences (B. Dietrich) 3 Bilein (J. Haider) 4 Obvious (B. Dietrich) 5 Suite of gold and blue part III (M. Spillmann) 6 Abstract (B. Dietrich) 7 You (J. Haider) 8 Blues for Alf (J. Haider) 9 Caravan (D. Ellington)
sFr 27.- inkl. Versand bestellen.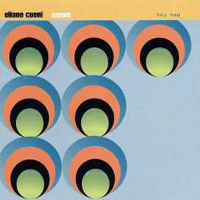 Eliane Cueni p,comp,arr, Daniel Schenker tp, Daniel Blanc as,fl, Domenic Landolf ts,fl, Vincent Lachat tb, Emanuel Schnyder b, Lukas Bitterlin dr
Recorded 23-24 Mai 1999
1 illegal ideas incite inner imps immediately 2 how her hot heart hurts him 3 hey hag 4 happy husbands 5 half hidden habits 6 if 7 indeed it is... 8 hairy heroes 9 huggin' 10 heaven hates hell
sFr 27.- inkl. Versand bestellen.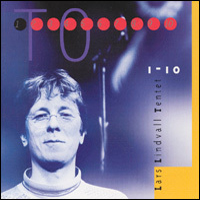 Lars Lindvall tp,comp,arr, Corrado Bossard tp, Daniel Blanc as, John Voirol ts, Robert Morgenthaler tb, Otmar Kramis bs, Roberto Bossard g, Christoph Stiefel p, Hämi Hämmerli b, Fabian Kuratli dr
Rec. 2003, Radio DRS Zürich
1 Äpple 2 Komya 3 Longing 4 Trilla ej ned fran berget 5 Phuh! 6 Newland 7 This one too! 8 Min visa 9 Got it? 10 So what you say! 11 Min visa 12 Nasenflötenkonzert 13 Really fun, T! 14 Äpple
sFr 27.- inkl. Versand bestellen.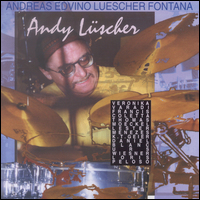 Andy Luescher dr, comp, arr, Veronika Varadi vln, Francis Coletta g, eb, Thomas Moeckel tp, Lester Menezes p, synth, org, K. T. Geier b, Daniel Blanc as, fl, Urs Wiesner vib, Loris Peloso tb
Rec. July 1998, Castle Life Studio Fribourg
1 The smoker 2 One for the kids 3 Pa'uste 4 The seventh soul 5 Interlude I 6 Cool head 7 Interlude II 8 The cat's shuffle 9 Can't dance anymore 10 Broken spirit 11 .....
sFr 27.- inkl. Versand bestellen.